My Blog
Posts for tag: dental implant
By Kindred Oaks Dentistry, PC
October 13, 2019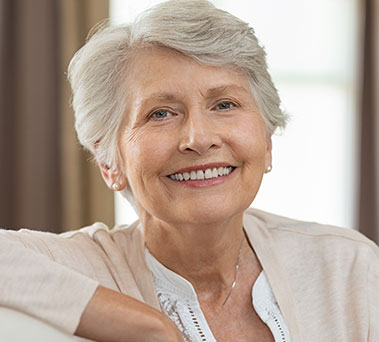 Dental implants are all the rage—and for good reason: They're incredibly "tooth-like," both in appearance and function. They also have a stunningly high success rate: More than 95% of implants still function after ten years. This means out of thousands of implants installed each year, only a handful fail.
But although that's an amazingly low number, they're still failures for real people who've suffered a loss. If you're considering dental implants the chances of that being your experience are quite low. But it could still happen.
Here's a few things you can do to make sure your implants don't fail.
Stop smoking. Of the small percentage of implant failures, an inordinate number are smokers. A smoker's chances of implant failure are roughly double those of non-smokers. Smoking, and to some degree any tobacco use, can make your mouth an unhealthier place: Not only can it increase your dental disease risk, but it can interfere with the healing process after implant placement and increase the chances of early failure.
Manage your health. Diabetes and similar systemic conditions can interfere with the healing process too, which could impact your implant attachment to bone. Diabetics thus run a slight risk of implant failure—but actual failures mostly involve patients who don't have good control of their symptoms. If you're a diabetic, properly managing your condition will lower your risk of implant failure to nearly identical that of someone without diabetes.
Treat gum disease. Implants in themselves are immune to disease—but the underlying bone that supports them isn't. A gum disease infection could eventually weaken and diminish the implant-bone attachment. If this happens around an implant, its stability can be severely compromised. The best strategy is to prevent gum disease through daily, thorough brushing and flossing to remove disease-causing dental plaque. And if you see any symptoms like gum swelling, redness or bleeding, see your dentist as soon as possible.
Your implants could serve you well for decades. Just be sure you're doing the right things to ensure their longevity.
If you would like more information on dental implants, please contact us or schedule an appointment for a consultation. You can also learn more about this topic by reading the Dear Doctor magazine article "Dental Implants: A Tooth-Replacement Method That Rarely Fails."
By Kindred Oaks Dentistry, PC
May 11, 2015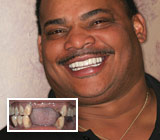 This is the story of a well-known man, fearless in most respects, who was afraid of the dentist. Even though his fears had resulted in neglect and serious damage to his teeth, modern dentistry and a talented dental team were able to restore his smile to health. If you share this fear, his story may inspire you to take action.
We're talking about William Perry, former defensive lineman and fullback for the Chicago Bears. Here is a man who could fearlessly face a football squad — but not a visit to the dentist. Nicknamed "The Refrigerator" for his 380-pound massive frame, Perry played for ten years in the NFL before retiring in 1994. Since retiring he founded and operated a construction company in South Carolina in addition to making celebrity appearances.
With his celebrity in mind, a team composed of a talented restorative dentist, implant surgeon, and lab technician agreed to give "The Fridge" a makeover. After discussing modern technology and virtually pain-free dentistry with him, they managed to overcome Perry's fears. "I had been in constant pain for many years and I neglected myself, not having had any dental care for over 20 years, not even emergency care. Unfortunately, as I grew older my teeth started to get loose," Perry told an interviewer. He had lost many teeth and became known for his gap-toothed smile.
Perry had severe gum disease and many of his remaining teeth were loose. In the past his only option would have been a full set of dentures. But his new dental team was able to place dental implants (permanent tooth replacements) supporting fixed bridges. In most cases dental bridges are attached to healthy teeth, but in Perry's case the implants served as anchors for the bridges. They also stabilized his jawbone, which would otherwise "resorb" or melt away after his teeth were lost. This is important because it helps preserve the contours of his face.
After careful planning "The Fridge" had eight dental implants placed in his upper jaw and seven in his lower. The final bridgework was completed four months later. It turned out that even though the gap between his teeth had become his trademark, "the Fridge" never really liked it. He was thrilled with his new smile.
Even if you have some fears, don't hesitate to follow Perry's example and make an appointment with us for a consultation about dental implants, smile makeovers, or bridgework. For more information about William "The Refrigerator" Perry, see the Dear Doctor magazine article "How Immediate Implants Saved 'Refrigerator' Perry's Smile."
By Kindred Oaks Dentistry, PC
March 10, 2015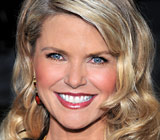 Supermodel Christie Brinkley has a one-in-a-million smile, but she is just one of millions who have benefited from today's preferred tooth-replacement technique: the dental implant. In a wide-ranging interview, Brinkley told Dear Doctor magazine about a helicopter accident she suffered while back-country skiing.
"I fractured two molars in the back of my mouth and I had to get two dental implants," Brinkley told the magazine. "I am grateful for the dental implant technology that feels and looks so natural."
You might think it serves little purpose to replace a missing back tooth that was barely visible in your smile to begin with — especially if you don't spend a lot of time posing for magazine covers. But this is actually not the case. Your molars are extremely important for chewing and even for maintaining a more youthful appearance.
Dentists generally agree that losing posterior (back) teeth can have many consequences for the remaining teeth and their surrounding structures, i.e., bone and gums. If back teeth are missing, the front teeth end up bearing more stress than they were built for. And there are certain things that happen when any tooth is lost, whether front or back, that can affect function and appearance.
For one thing, when a tooth is lost the adjacent teeth tend to drift into the empty space or tip towards it. This can adversely affect your bite. Too much shifting can render a tooth basically useless and also leave it more vulnerable to gum disease.
Another complication is the loss of tooth-supporting bone that inevitably occurs when teeth are lost. When a tooth comes out, the bone under it actually begins to melt away. Since back teeth support the vertical dimension of the face, their loss can cause what's known as "bite collapse" — a reduction in facial height that becomes increasingly noticeable over time and can make you look older.
A dental implant can prevent all of these things, while providing you with a replacement that looks and feels just like the tooth you lost.
If you are interested in learning more about implants, please contact us or schedule an appointment for a consultation. If you would like to read Dear Doctor's entire interview with Christie Brinkley, please see "The Secret Behind Christie Brinkley's Supermodel Smile." Dear Doctor magazine also has more on "Replacing Back Teeth."