My Blog
Posts for: February, 2020
By Kindred Oaks Dentistry, PC
February 20, 2020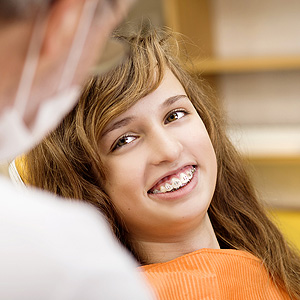 There are an assortment of techniques and treatments in an orthodontist's toolkit, braces being the most common and best known. Of course, there wouldn't be any tools at all if teeth couldn't move naturally.
Teeth aren't directly connected to the jawbone. An elastic tissue called the periodontal ligament lies between each one, with tiny fibers attaching to the tooth on one side and to the bone on the other. The ligament's elasticity and other qualities allow micro-movements of the teeth as we bite.
The ligament can also adapt to changes in the mouth and teeth by allowing the teeth to move to different positions. That's the basic concept behind braces: we thread a thin wire through brackets attached to the teeth, which we then attach to anchor points (usually back teeth not intended to move) and apply tension to it. Gradually over time, the target teeth move.
But what if your malocclusion (poor bite) is more complicated or the back teeth can't supply enough anchorage for moving the intended teeth? That's where we take advantage of other sources of anchorage.
One such source is the patient's skull, which we can make use of through special headgear worn a few hours a day. The device consists of a strap under tension that runs around the back of the head or neck to a wire housing attached to brackets on the target teeth. If you want to "pull" the teeth forward, the strap would come over the chin, forehead or a combination of both.
We may sometimes want to isolate some teeth to move without moving nearby teeth, such as moving front teeth backward to close a space without affecting teeth further to the rear. We can create a separate anchor point in the jaw with a TAD or temporary anchorage device.
TADs are tiny screws made of stainless steel inserted temporarily into the bone. We loop an elastic band over the TAD on one end and to a bracket or tension wire attached to the target teeth on the other. When we've achieved the teeth's new position we can easily remove the TAD from the bone.
These various tools make it possible to correct difficult or complex malocclusions. They may not always look attractive, but they'll help ensure the final result is.
If you would like more information on available orthodontic treatments, please contact us or schedule an appointment for a consultation. You can also learn more about this topic by reading the Dear Doctor magazine article "Orthodontic Headgear & Other Anchorage Appliances."
By Kindred Oaks Dentistry, PC
February 10, 2020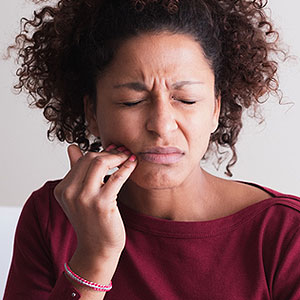 A loose primary ("baby") tooth is often a cause for celebration. A loose permanent tooth, however, is a cause for concern. A permanent tooth shouldn't even wiggle.
If you have a loose tooth, it's likely you have a deeper dental problem. Here are the top underlying causes for loose teeth.
Gum disease. Teeth are held in place by an elastic tissue called the periodontal ligament. But advanced periodontal (gum) disease, a bacterial infection usually caused by film buildup on teeth called dental plaque, can damage the ligament and cause it to detach. If it's not treated, it could lead to tooth loss.
Bite-related trauma. A normal bite helps balance out the forces generated when we chew so they don't damage the teeth. But if a misaligned tooth protrudes higher from the jaw, the opposing tooth will likely create more downward pressure on it while chewing. This can stress the tooth's supporting ligament to the point of looseness.
Self-inflicted trauma. While they may be trendy, tongue jewelry can cause dental damage. A wearer who clicks the "barbell" of a tongue stud against their teeth could be creating conditions conducive for gum damage and bone loss, which can cause tooth looseness. Similarly, taking orthodontics into your own hands could also damage your teeth, especially if you have undiagnosed gum disease.
Genetics. Although you can't prevent it, the type of resistance or susceptibility you inherited from your parents (as well as your dental anatomy) can cause you dental problems. Thinner gum tissues, especially around the roots, can make you more susceptible to gum disease or dental trauma, which in turn could contribute to tooth looseness.
There are things you can do to lessen your chance of loose teeth. Brush and floss every day to remove disease-causing bacterial plaque and see a dentist regularly for cleanings to reduce your risk of gum disease. If you have any misaligned teeth, consult with an orthodontist about possible treatment. And avoid oral jewelry and DIY orthodontics.
If you do notice a loose tooth, see us as soon as possible. We'll need to diagnose the underlying cause and create a treatment plan for it. We may also need to splint the tooth to its neighbors to stabilize it and reduce your risk of losing it permanently.
If you would like more information on tooth mobility, please contact us or schedule an appointment for a consultation. You can also learn more about this topic by reading the Dear Doctor magazine article "When Permanent Teeth Become Loose."