My Blog
Posts for: February, 2015
By Kindred Oaks Dentistry, PC
February 23, 2015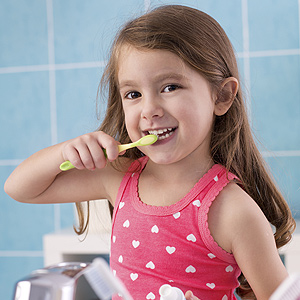 Every February, the American Dental Association sponsors a campaign called National Children's Dental Health Month. The purpose of this operation is to raise awareness about how important it is to get an early start on developing good dental hygiene habits — and how this can lead to a lifetime of healthy teeth and gums. So we thought this might be a good time to answer some of the most frequently asked questions about how to do exactly that:
When is it time to start cleaning my baby's teeth?
As soon as you see one! The earlier your child gets used to a daily dental hygiene routine, the better. Baby teeth that have not fully emerged from beneath the gums can be wiped with a clean, moist washcloth after feedings. A tooth that has grown in completely should be brushed twice daily (once in the morning and once in the evening) with a soft, child-sized tooth brush and a thin smear of fluoride toothpaste. Fluoride is an important weapon against tooth decay, but you don't want your child to swallow too much.
Can babies get cavities?
Absolutely — especially if they are allowed to fall asleep routinely with a bottle filled with anything but water. Milk, formula — even breast milk — all contain sugars that should not be left to pool around your baby's teeth during sleep, facilitating decay. Juice is an even bigger no-no because it is not only sugary but also acidic.
Can't I give my child sweets once in a while?
We realize total avoidance of sweets may not be realistic, as beneficial as this would be for your child's teeth. If you are going to allow your child to have sweets once in a while, better that the treat be given immediately following a meal, and not as a between-meal snack. Soda should really be avoided completely — it's that bad.
When should I take my child to the dentist for the first time?
The experts say: Get it done in year one. That's right — even though your child won't have many teeth by age 1, there's a lot we can do at that first visit to ensure good oral health now and well into the future. We will do everything possible to make sure your little one has a positive first experience in the dental chair; this helps set the tone for the many important preventive visits yet to come. It's also a great opportunity for you to ask any specific questions you may have, and receive hands-on instruction on how to care for your child's teeth and gums.
If you would like more information about children's oral health, please contact us or schedule an appointment for a consultation. You can learn more in the Dear Doctor magazine articles "Taking the Stress Out of Dentistry for Kids" and "Age One Dental Visit."
By Kindred Oaks Dentistry, PC
February 13, 2015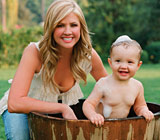 During Nancy O'Dell's interview with Dear Doctor magazine, the former co-anchor of Access Hollywood and new co-anchor of Entertainment Tonight could not resist her journalistic instincts to turn the tables so that she could learn more about a baby's oral health. Here are just some of the facts she learned from the publisher of Dear Doctor about childhood tooth decay, pacifier use and what the right age is for a child's first visit to the dentist.
Many moms-to-be and parents or caregivers of young children are surprised to learn that around age 1 is the ideal time to schedule a child's first visit to the dentist. This visit is crucial because it sets the stage for the child's oral health for the rest of his or her life. It can also be quite beneficial for the parents, too, as they can be reassured that there are no problems with development and that the child's teeth appear to be growing properly. And if by chance we identify any concerns, we will discuss them with you as well as any necessary treatment strategies.
Nancy also wanted to learn more about pacifiers — specifically, if it is a good idea for parents to encourage their use. Obviously, children are born with a natural instinct for sucking, so giving a child a pacifier seems totally harmless. Pacifiers definitely have some advantages; however, if used for too long — past the age of 18 months — they can cause long-term changes in the child's developing mouth (both the teeth and the jaws).
Another problem that parents and caregivers need to be aware of is baby bottle syndrome. This is a condition that develops in children who are perpetually sucking on a baby bottle filled with sugary fluids such as formula, fruit juices, cola or any liquids containing a large amount of sugar, honey or other sweeteners. It is important to note that a mother's own breast milk or cow's milk are good choices for feeding babies, as they both contain lactose, a natural sugar that is less likely to cause decay. However, if these liquids are placed in a bottle and a child is allowed to suck on it throughout the night, they, too, can promote tooth decay. The key is to feed your child properly while avoiding all-night feedings and liquids loaded with sugar.
To read the entire Dear Doctor magazine article on Nancy O'Dell as well as to learn more about a baby's oral health, continue reading "Nancy O'Dell — A life full of smiles." Or you can contact us today to schedule an appointment so that we can conduct a thorough examination, listen to your concerns, answer your questions and discuss any necessary treatment options.