My Blog
Posts for: January, 2015
By Kindred Oaks Dentistry, PC
January 29, 2015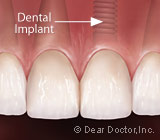 The best method for permanently replacing a missing tooth is with a dental implant. But did you know that there are two main techniques for placing implants? Implants can be placed either using a one stage or a two stage surgical technique, and as their names suggests, one is performed in one step while the other requires a second surgery.
With a one-stage procedure, a healing abutment is placed at the time of surgery. An abutment is a connector that attaches the implant from the bone into the mouth and which protrudes through the gum tissues. Following a 3 to 6 month healing period in which the implant fuses to the bone, a crown is then placed on the implant restoring the immediate appearance of a healthy, normal tooth. One-stage implant systems are generally used when the bone quality is good, guaranteeing good initial implant stability. They are also used when cosmetics is not a concern, such as the back areas of the mouth.
Under special conditions an implant can be placed and a crown placed on top of it at the same time. However, this is a very special circumstance requiring ideal conditions and surgical experience as well as crown fabrication know-how. It is generally safer and wiser not to subject an implant to biting forces until it is fully healed and integrated with the supporting bone.
A two-stage procedure is typically used for replacing teeth where there is no immediate need for a cosmetic solution and when more of a margin of safety is required. With this approach, the implant(s) are placed into the jawbone and the gum tissues cover them. They are not exposed to the mouth, but stay buried and left to heal. Once healed, a second surgery is performed to attach an abutment for securing the crown in place. This approach is used when there is poorer bone quality or quantity. This may make it necessary to regenerate bone around the implant at the time of its placement. There may also be other health considerations dictating that a two-stage approach may be indicated.
Depending on your individual situation and medical status, our implant team will determine which approach is best for you. To learn more about these two procedures, read the Dear Doctor article, "Staging Surgery In Implant Dentistry." You are also welcome to contact us to discuss your questions or to schedule an appointment.
By Kindred Oaks Dentistry, PC
January 14, 2015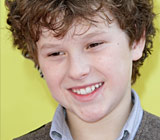 Nolan Gould, who plays Luke on the popular TV comedy Modern Family, has beautiful, straight teeth. But in an exclusive interview with Dear Doctor magazine, the young actor said it wasn't always that way.
"My teeth used to be pretty messed up," Nolan said. "I had two extra teeth when I was born. They hadn't come out (erupted) yet. And all the other teeth that were already there were starting to point backwards because it was getting so crowded in my mouth. At about the age of 7, I started going to the orthodontist to get my teeth checked."
Age 7 may sound early for a visit to the orthodontist, but in fact that's exactly the age we recommend for a first orthodontic evaluation. Malocclusions (bad bites) often become noticeable around this time, as the child's permanent (adult) teeth erupt. We might already be able to see evidence of the following problems: crowding, too much space between teeth, protruding teeth, extra or missing teeth, and sometimes problems with jaw growth. So even if your child is too young for braces, it is not necessarily too early for an orthodontic evaluation.
This type of exam can spot subtle problems with jaw growth and emerging teeth while some baby teeth are still present. Early detection of orthodontic problems makes it easier to correct those problems in the long run. Waiting until all of the permanent teeth are in, or until facial growth is nearly complete, may make correction more difficult or even impossible. That's why the American Association of Orthodontists recommends that all children get a check-up with an orthodontist no later than age 7.
Orthodontic treatment itself usually begins between ages 7 and 14. Therapy that begins while a child is still growing, often referred to as "interceptive orthodontics," helps produce optimal results. In Nolan's case, an early orthodontic evaluation allowed his orthodontist enough time to plan the most effective treatment. Nolan's two extra teeth were removed before they had a chance to push his other teeth even further out of alignment, and he was given orthodontic appliances which fit behind the teeth.
"You can remove them, which is really good for acting, especially because you can't see them. I can wear them 24/7 and nobody will ever notice."
One thing that is noticeable, however, is Nolan's perfectly aligned smile!
If you would like to learn more about improving tooth alignment with orthodontics, please contact us to schedule an appointment for a consultation. To read Dear Doctor's entire interview with Nolan Gould, please see "Nolan Gould." Dear Doctor also has more on an "Early Orthodontic Evaluation."